Text Message Reader
View their sent and received text messages without them knowing.
Find out about the contacts with whom they chat through text.
View all the incoming and outgoing iMessages for iPhones.

Even read their deleted text messages and iMessages.

View media files, timestamps, and contacts info.

TeenSafe just takes five minutes to get you their texts.
3 Simple Steps to Spy on Text Messages
Sign Up
Create a TeenSafe account, using your email address as username.

Configure TeenSafe
Follow the on-screen guide to set up TeenSafe for the target device- iOS or Android.
Start Reading Texts
You can now access TeenSafe's dashboard and view their conversations quietly.
Create an account for free
By signing up, I hereby agree to the Privacy Policy
Check Live Demo Here >>
Reading Texts is Crucial
Before social media became popular, text messages were the most popular means of communication. Many people still use it today. You can find about their secrets in their text messages.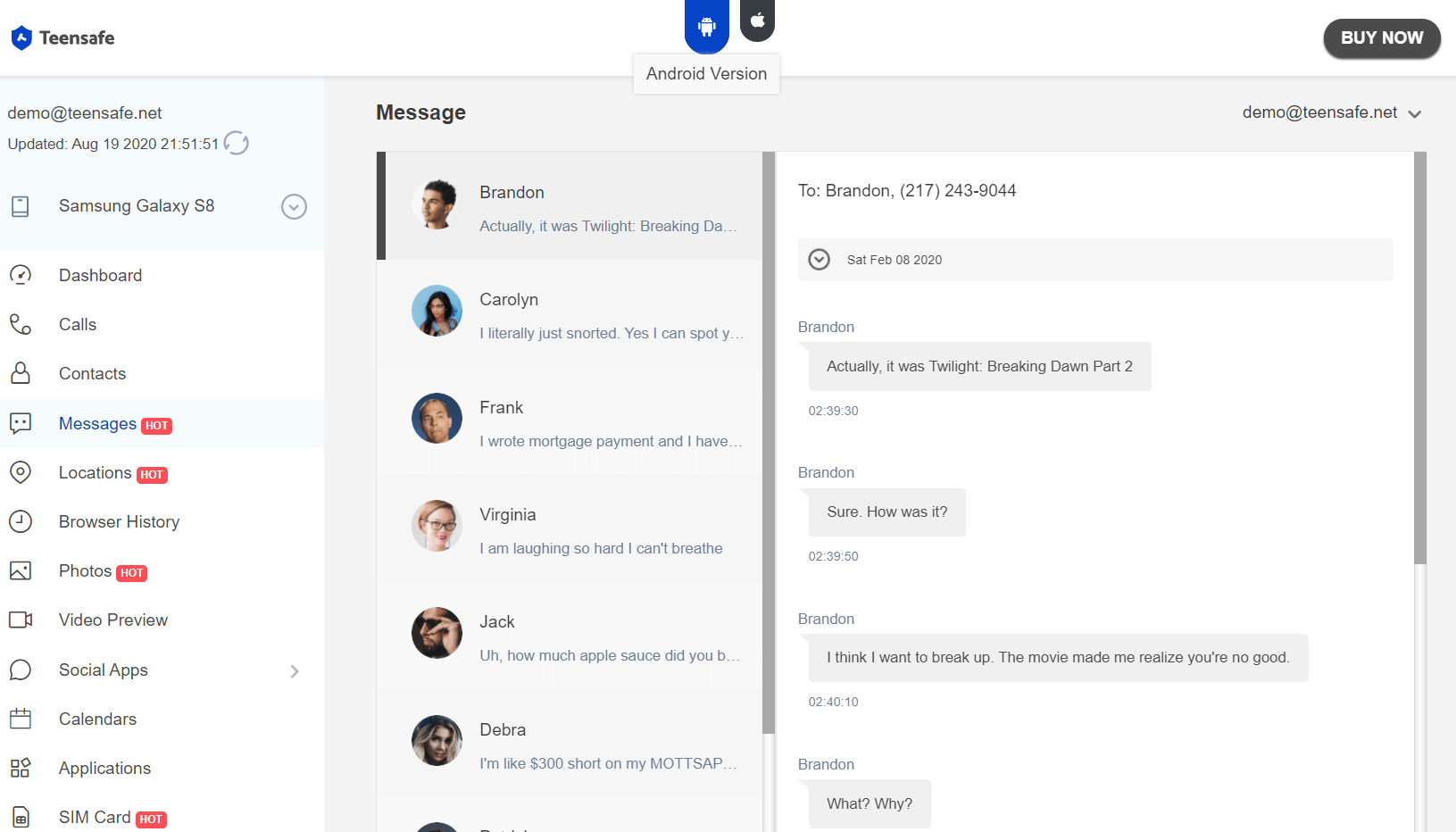 Parental Control
You don't know what trouble your child might be in. However, with TeenSafe, you can find it out for yourself. Simply use TeenSafe's text message tracker and learn the things that they do not tell you.
Workplace Monitoring
There are many employees that slack off during work hours, casually texting when they should be working. Use TeenSafe's text message monitor to read their messages, find out which employee is actually taking their work seriously. Also learn if any employee is sharing your company's secrets with others
Viewing OTP
TeenSafe can give you your child's login credentials for any account, however most accounts use two factor authentication nowadays. The text message spy lets you read the OTP they get during two factor authentication, giving you access into any social media account they use.
No Need to Root or Jailbreak
TeenSafe is the result of the brightest minds working together to create the most advanced application. It does not need you to root or jailbreak the target device in order to work. It can give you every bit of data on their phone without needing root or jailbreak.
Read Texts Secretly
When you are using TeenSafe, there are no chances of getting caught when reading their text messages. This is because TeenSafe is designed to be 100% hidden, whether you are tracking the messages of an Android phone or an iOS phone.
TeenSafe needs just a one-time setup, which at most takes 5 minutes of your time. After that, you can view their private chats anytime, instantly. There are no waiting periods and no revolving circles on your screen saying Loading.